Date-range Search
A blanket "date-range" search can be performed by leaving the "Value" blank—this will return all records for the nominated period.
The User can search by date-range related to one of the following "Date Criteria":
Received - the date the job was received
Completed - the date the job completed processing, or
Job Start - the Start Date that the enquirer nominated for the Job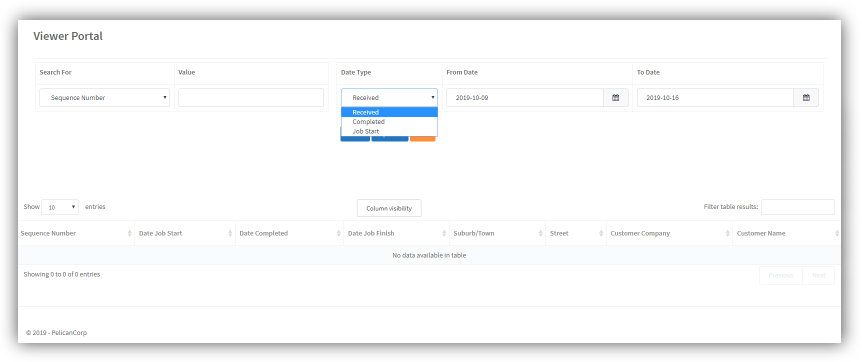 Once the "Date Type", "From Date" and "To Date" has been nominated, the User can click the Search button to see the results.
Note: the "To Date" needs to be a date that is equal to or greater than the date that is selected for the "From Date".
Job-criteria Search
Processed Jobs can be searched via a specified/expected Job detail value.
The User can select one of the specified Job detail criteria from the "Search For" drop down list:
Sequence Number
Job Number
Ticket Number
User Reference
Suburb
Street
Company Name
Customer Name
Assigned User
Scenario
Job Code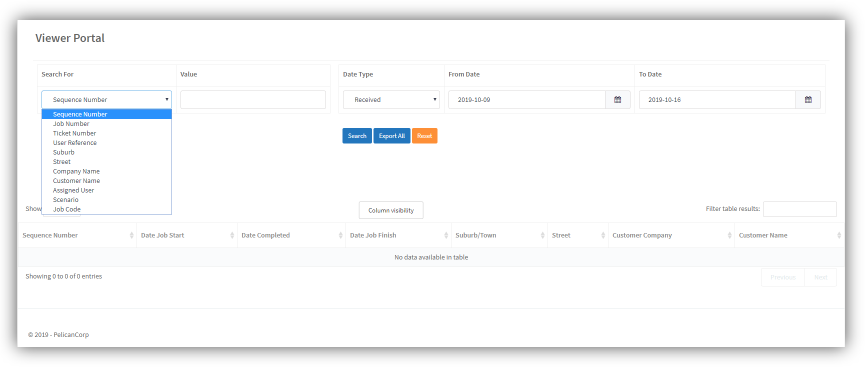 The User can then specify a "Value" to search for against the nominated Job detail (criteria).
Note: if no "Value" is specified, the nominated "Search For" Job detail (criteria) will be ignored during the search.
The results of the search can be refined by completing the Date-range Search details.